What to expect
We fish 2 charters per day on each boat. Morning trips start between 5 and 6 am depending on sunrise time and our 2nd trips start between 10 am and 1 pm depending on what time the morning charters end. We also offer a limited numver of evening charters which usually start between 3 and 5 pm.
Upon arriving at the marina you can expect to see 2 very large Charter fishing boats which are clean, well maintained and equipped with the absolute best in Tackle and equipment.
As soon as we hit the water you will immediately know that these vessels and their crews are equipped for maximum comfort and ability to catch fish consistently.
Salmon fishing the Great Lakes is a unique experience geared towards those who are looking for more of a fishing adventure and hands on experience.
Although most clients allow Captain Matt to choose the species and style to fish, if you have a preference, let us know when you book the trip and we will custom design a trip to fit your desires.
Whether it is Acrobatic Steelhead, Reel Screaming Kings, Arm Busting Lakers, Huge Brown Trout, or just catch as many fish as possible, it is all at your fingertips if you so desire.
You have probably never been on a fishing expedition like Jackpot Fishing Charters before, and once you have tried it, you will be hooked.  The only disappointed clients we have are the ones that wait too long to call only to find out the date they want is already booked!
---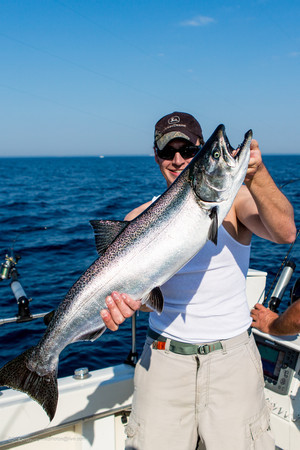 Where we fish
This section, the northern Illinois and southern Wisconsin waters, of Lake Michigan is without a doubt the most consistent salmon-producing stretch of water in all the Great Lakes from April through October.  As a result, we usually fish within 1 to 4 miles of our harbor. However if we need to run further, I won't hesitate to burn the extra fuel. The Jackpot is a fast, smooth-riding boat to get you to the fish faster.
By being a full-time charter captain, I can constantly monitor the fishery and spend less time looking for fish and more time catching fish.
What do we fish for?
This is one of the hardest questions for a Captain to answer.  There are a number of different options available to you, depending on what your priorities are. We catch Chinook Salmon (Kings), Coho Salmon, Rainbow Trout (Steelhead), Brown Trout and Lake Trout.
How to find us
From the north
Take Hwy 94 East and exit on Hwy 41 south to the first stop light, Hwy 173 and turn east to the town of Zion. Follow the rest of the directions below.
From the south
Take Hwy 94 West to Hwy 173 east to the town of Zion. Follow the rest of the directions below.
From Hwy 173, turn North (left) at the stop light at Hwy 137 (Sheridan Road) and proceed approximately 1.5 miles to the stop light at 7th street and turn east.
At the "T" intersection, (stop sign) in front of the Harbor Administration building, turn left and proceed to the next T intersection stop sign.
Turn right and this will put you in an oval drive.
At the bottom of the oval, as soon as you begin the return up the oval, the charter basin will be on your north.
The boats are located on Dock AB in slips 1 and 2 – the first 2 slips on the dock. Drop your crew and your gear at the end of the AB Dock, and proceed to the parking area adjacent to "Skipper Buds" (next to the blue building).
Please Note: If you are running late, or you need help finding the harbor, you can reach me on my cell phone at 847-276-0790.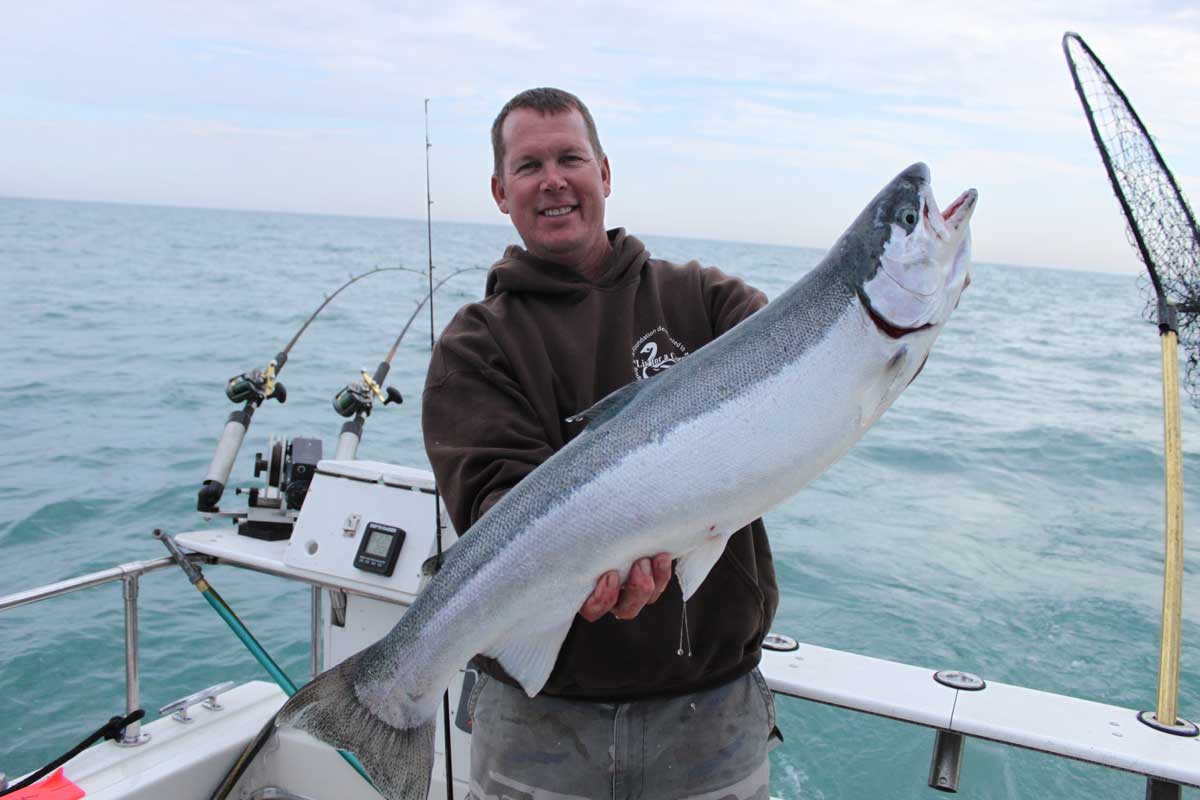 Captain Matt Porter
I am a U.S. Coast Guard Licensed Master Captain and was raised 4 blocks from the shores of Lake Michigan. I have been fishing the Illinois and Wisconsin areas of Lake Michigan for Salmon and Trout since they were first stocked in the 1960's.
That's over 40 years of Lake Michigan fishing experience.
As a full-time Lake Michigan Salmon and Trout Fishing Charter Captain, working with a network of charter captains from four harbors, I am able to stay on top of the fish EVERY DAY.
I invite you to come aboard the Jackpot and experience the finest salmon and trout fishing that the Great Lakes has to offer. I work hard every day to guarantee you a successful charter. Your enjoyment is my #1 priority, which is proven on every trip. Once you fish Jackpot Fishing Charters, you'll come back again and again.
Captain Jeff Slasted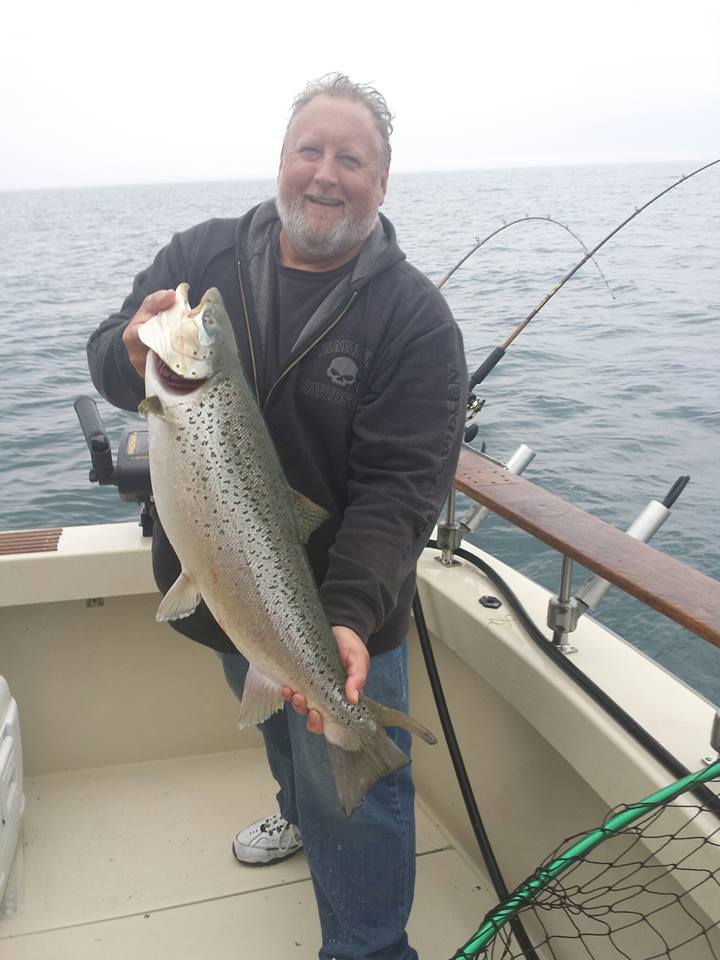 Captain Jeff is a full time U.S. Coast Guard Licensed Captain and has lived and fished his entire life in Racine, WI on the shores of Lake Michigan. In addition to being an accomplished charter fishing Captain, Jeff has also won the most prestigious Salmon tournament in the world – "The Uecker"
Jeff joined the Jackpot team in 2014 and takes pride in working hard every day to provide a memorable fishing charter for all our guests.

Captain Sam Slasted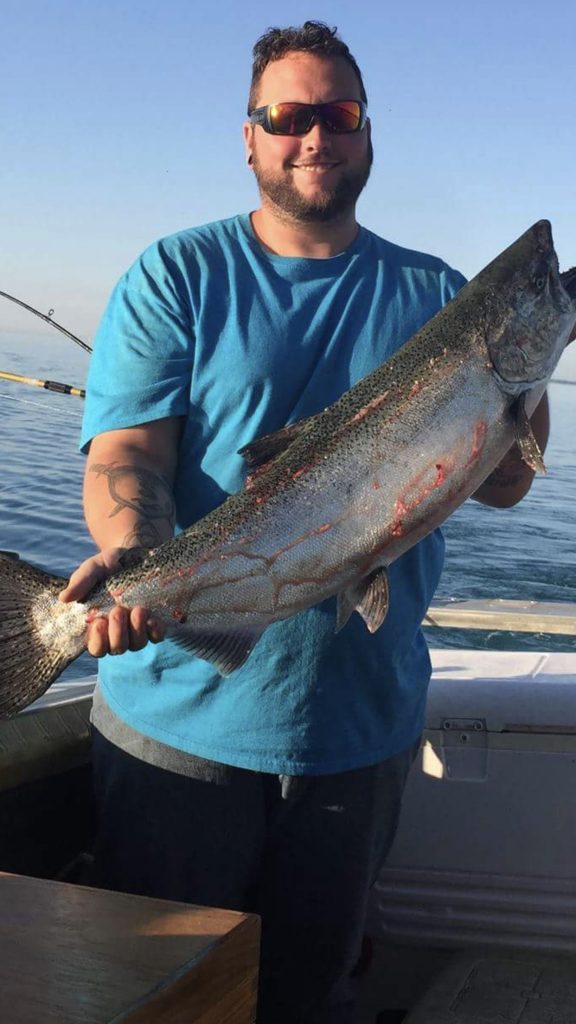 Captain Sam was raised fishing on Lake Michigan aboard his fathers boat and began working as a first mate on Charter Fishing boats when he was 11 years old. Sam joined the Jackpot team in 2014 as a first mate and has since become a full fledged U.S. Coast Guard licensed Captain. Sam was also part of the team that won the Super sweepstakes Salmon Fishing tournament in 2010 and brings those skills to the lake every day.
Sam is a great fisherman and a lot of fun to fish with.
Here's what Sam has to say:
"The thing that means the most to me on a fishing trip is your enjoyment and of course catching fish. When I know you have had a great time, I know that I did the best job that I could.
I look forward to meeting you all and providing you with an experience of a lifetime."
Captain Harley Goodman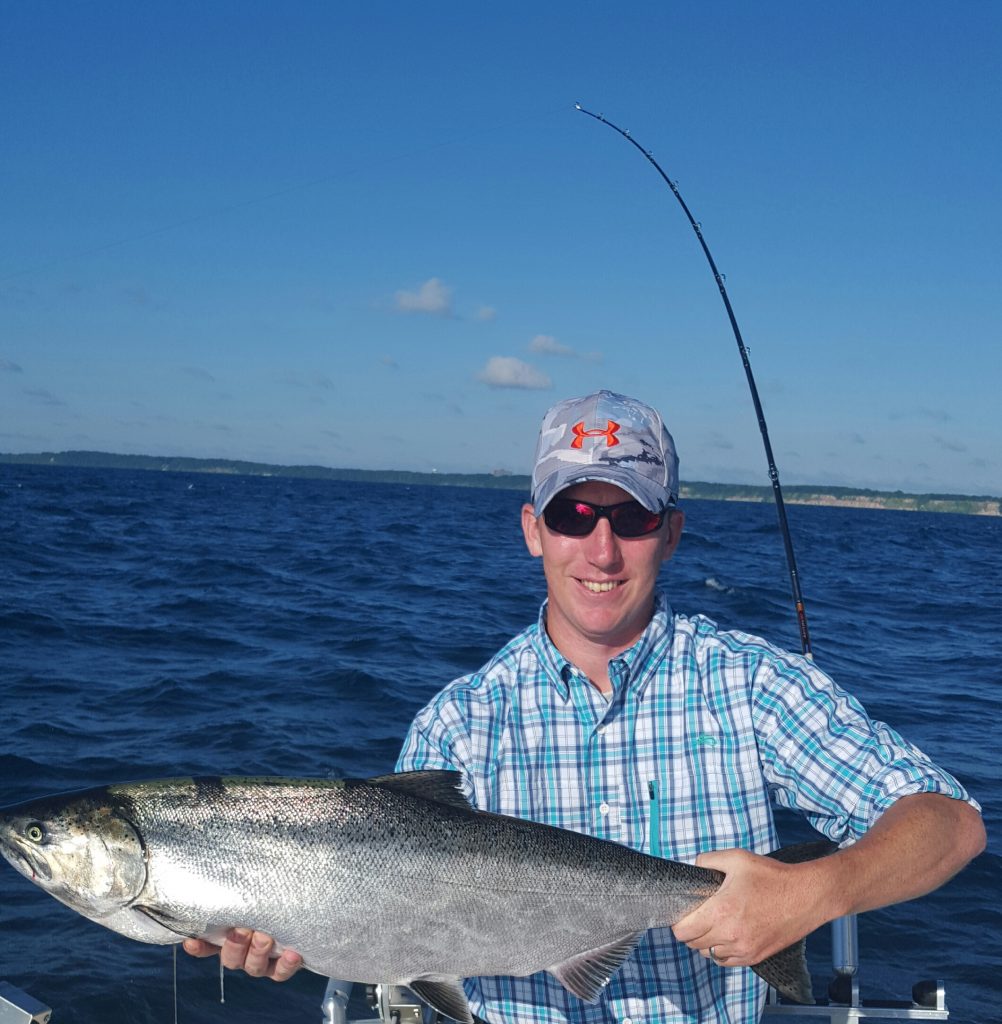 Captain Harley's passion for fishing was instilled by his father and he has been fishing his entire life. He has a decade of tournament winning success on Lake Michigan and is an expert navigating the Illinois, Michigan and Wisconsin waters of Lake Michigan.
His recent tournament wins include 2016 Pass the Passion Champions, 2016 Wisconsin boat of the year, 2nd place Illinois Open, 3rd place Salmonarama Super Sweepstakes, and multiple other awards for big fish.
Here's what Harley has to say:
"Whether it's a corporate outing, or a day with family and friends, I promise you will not be disappointed. My work ethic and passion for Lake Michigan fishing will be 2nd to none.
Please allow me to guide you to an exciting and enjoyable fishing charter aboard the Jackpot on Lake Michigan."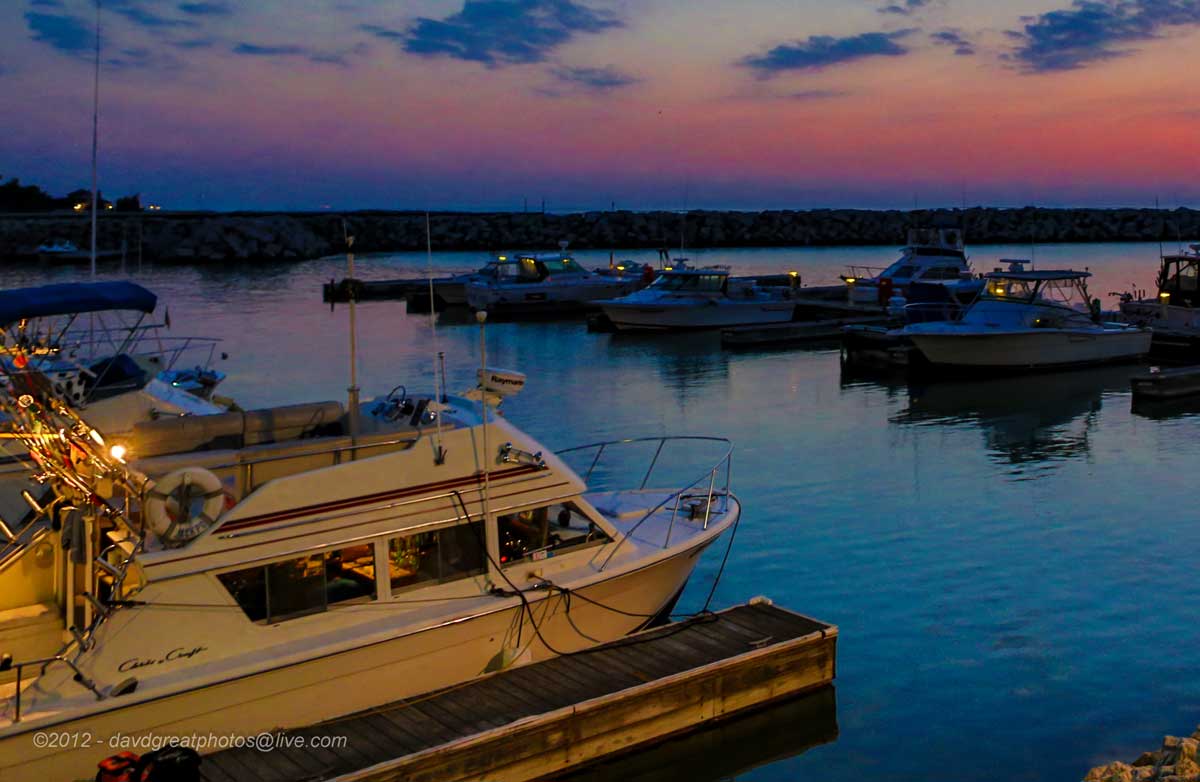 The Jackpot
The Jackpot charter fishing boat is a massive 33 foot, three-tiered charter fishing boat with a huge rear deck for salmon and trout fishing, a large fly bridge, and a fully enclosed cabin for your comfort in all weather conditions. The Jackpot has been completely refurbished, from all new electronics, auto-pilot, down-riggers, rods, reels, and tackle to being completely re-painted and re-powered with 2 brand new high output 5.7 liter engines.
The Jackpot is actually in better condition, with superior equipment than the day she came from the factory. All the equipment aboard the Jackpot is the absolute best that the marine industry has to offer. Although the boat isn't as important as the captain, it's still an integral part of your total fishing experience.
The two most important aspects of a fishing boat are the size and the condition. The size of the boat is relative to your comfort, it's seaworthiness and space. Although boats under 32 feet can catch fish, and smaller groups of 4 or less may have enough room, they will generally bounce around a bit more and be less stable and comfortable. The 33 to 35 foot class of fishing boats are considered the cream of the crop when it comes to comfort, stability, ride, and plenty of room to make your excursion the most enjoyable possible. The heavier the boat, called displacement in nautical terms, the better it will generally ride. Typical displacements for larger boats are 16,000 to 22,000 pounds.
Chris Craft boats like the Jackpot have been the benchmark for large sportfishing boats for over forty years – Unlike many charter boats which are pleasure boats modified for fishing. The Jackpot was designed specifically for fishing, and to ride comfortably in all seas, at the speeds required for trolling.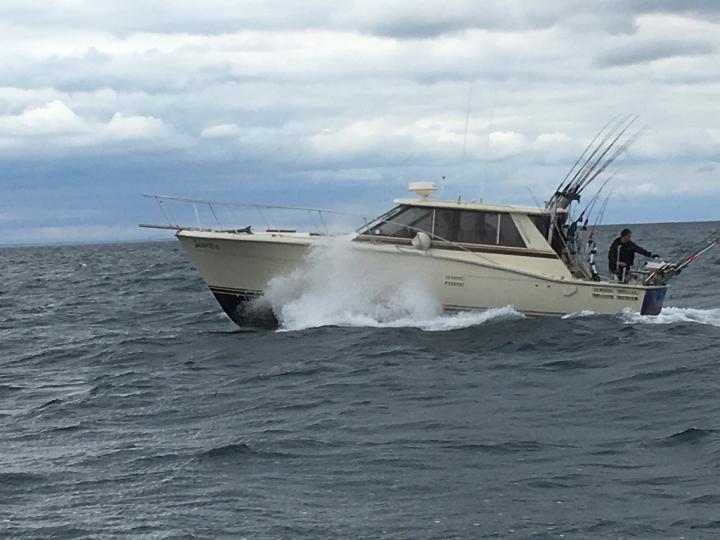 The Jackpot II
This huge 36 foot Trojan Yacht is one of the finest charter fishing vessels ever designed. The expansive enclosed cabin and it's 13 foot wide rear deck combined with a weight of over 24,000 pounds make an incredibly comfortable and stable Lake Michigan charter fishing boat.
You are sure to enjoy the view with windows that surround the cabin for a full 360 degrees and the custom built interior for your comfort and efficiency.
She is powered by new 700 horsepower Crusader engines and is equipped with state of the art Sonar, Radar, Chart Plotters, downriggers and marine radios. The Dual display fishfinders allow you to see all the fish and bait below while fighting fish from the back deck.
She is outfitted with a rail surrounding the back deck for your safety and comfort which also provides mounted rod holders to help kids (and adults) land big fish even after their arms get tired from the battle.
Of course all our boats are equipped with full sized clean restroom facilities.
Book your trip today and join us for some exciting Lake Michigan Charter Fishing!
What customers are saying
"I have been doing Jackpot Charters for the past 3 years and this year I will be doing 2 trips! This is a great opportunity for the inexperienced to the expert fisherman. Captain Matt really knows his stuff and you won't be disappointed. Jackpot Fishing all the way!"
-Carlos
Read all testimonials